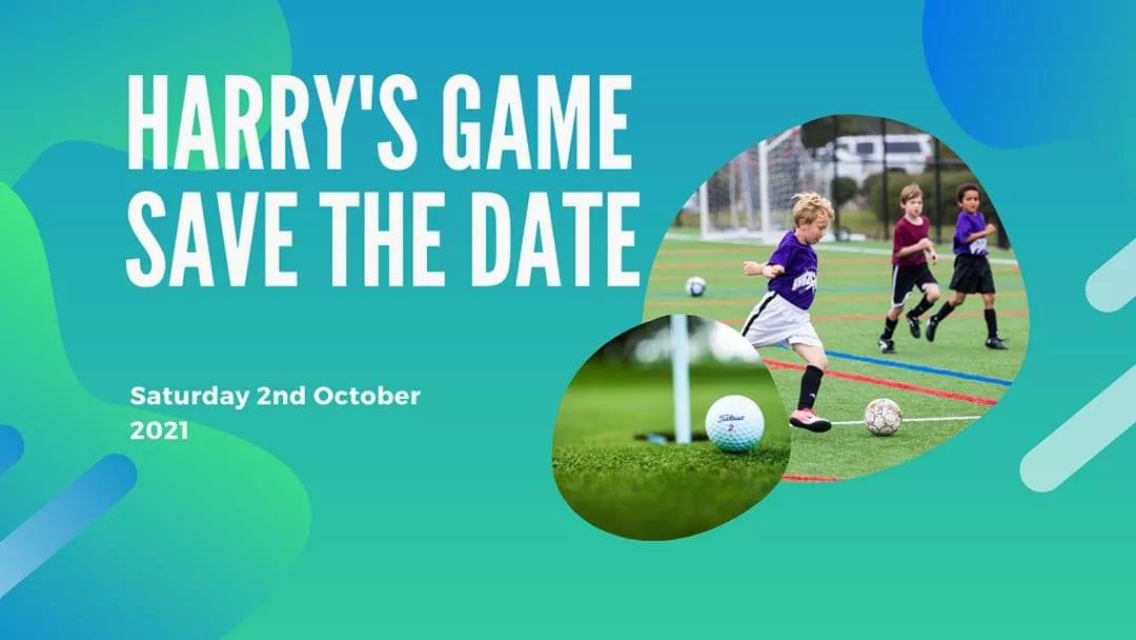 Harry's Game
This is the story of Harry Gunnip - our incredibly brave, funny, kind and sport mad son!
In October 2018 our world was turned upside-down when Harry, who was just five at the time, was diagnosed with ALL = Acute Lymphoblastic Lymphoma. ALL is a childhood cancer that affects about 30 kids in Ireland every year. He was diagnosed here in Waterford by the excellent team in UHW and quickly transferred to the extraordinary Haem/Onc Team in St. John's Ward at CHI Crumlin. Suddenly life changed for our family. Long spells in hospital in Waterford and Crumlin, away from his twin brother Danny were tough for Harry. There were too many needles, daily chemotherapy, chest tubes, nasal tubes, and multiple theatre trips. ALL took so much from him, friends, family, football, school, swimming, and all the adventures the two boys loved to do together. There were tough days, but we all tried to focus on the better days ahead.
One of those bright days was when he returned to football, under the watchful eye of his Dad Dean, Decky and the other coaches in Park Rangers. It was a real turning point for Harry, a return his brother Danny's side on the pitch.  He just had this drive to simply be "the same" as everyone else. After about a 3 second stare at his beautiful bald head, and his tubes the other kids just passed the ball to him and got on with the game.
We have been blessed with the care and attention that Harry has received along his journey, which we will hopefully conclude in January 2022. Much of his success is down to remaining active, being positive and staying connected to friends, activities, and community.
So we would like to thank those that supported our family and made this journey a little easier. They showed our son, our family what kindness, and community really looks like.
So, what have we planned................we are having a day filled with sport, fun, family, and some serious fundraising!
 "Harry's Game" Golf Classic at the award winning Faithlegg Golf Club - Saturday 2nd October 2021 from 9am
We are inviting teams of four to compete on the day for some excellent prizes.  Teams cost €300 each which includes golf, goodie bags and lunch. We will gather that evening for prizegiving, and an auction/raffle.  We have already been given some AMAZING donations that will certainly have lots of interest.  There are still times available on the time sheet.  Please contact Avril on 083 1600 700 or email avrilbowe@gmail.com to enter a team.
"Harry's Game" Soccer Blitz at the boy's club Park Rangers, Faithlegg - Saturday 2nd October 2021 from 12 noon
Danny and Harry are inviting teams from Waterford and the region to participate in a day of fun, football, friendship, and lots lots more.
We have set ourselves an ambitious fundraising target. We would like to show our gratitude and admiration for the following groups and donate to each:
CMRF – Crumlin          UHW Paediatric Unit (Juniors for Juniors)          Park Rangers FC
If you would like more information, would like to hear about our sponsorship opportunities or would like to get involved on the day, please call Avril on 083 1600 700 or email avrilbowe@gmail.com I have attached some details to give you an idea of what's involved.
Donations can also be made through our GoFundMe page here:
 https://gofund.me/e8ae4f24
Juniors for Juniors is a foundation that raise funds and directly give it to the Children's Ward at University Hospital Waterford. When a child is admitted as a patient to hospital it is very stressful for all involved. The parents may have never put their child into another bed or been away from them at night. The child will need to feel as comfortable and safe as possible under the circumstances. Therefore, our main goal for 2021 is to buy brand new comfortable and modern cots and beds for the children to give them a little bit of home from home comfort during their hospital stay